Home
Rivet: The Journal of Writing That Risks
Rivet is the online literary magazine from Red Bridge Press. Rivet publishes fiction, poetry, and nonfiction from beyond the mainstream. In each issue, you'll find genre-bending work that takes readers into strange landscapes and offers new perspectives on the everyday. Rivet showcases established and emerging authors whose writing takes risks with form, content, or both; revels in the unexpected; and rewards with imagination and insight.
Available now! Rivet issue 7: Love, loss, and a little redemption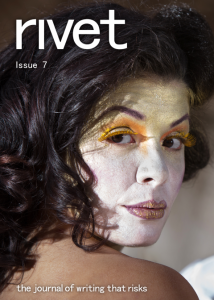 In this issue, you'll find utterly original fiction and poetry penned by award-winning and emerging authors from the U.S. and abroad. These works ask: Where does faith reside? How does love survive? And: Is there an equation in which me + you = yes?
Featuring fiction by Sara Adams, Jane Flett, Sofía Margarita López, and Christie Wilson; and poetry by Aleph Altman-Mills, Tomas Moniz, Lorraine Schein, Charles Springer, and Mariam Zafar.
Fall into the flesh and risk everything for a dream.