Africa Safari Journal (in Haiku) (with Footnotes) by Mindela Ruby
Africa Safari Journal (in Haiku) (with Footnotes)
Mindela Ruby
Sossus Lodge
Deadvlei at sunset
Yelping jackal crosses dunes
The Milky Way1 wows
1 Earth's galaxy home, strikingly visible in the Namibian desert night sky.
Mowani Mountain Camp
Reimvasmaaker2 guide
Rosey-Face Love Birds in flight
Scattered boulder crags
2 Member of South African tribe forcibly resettled to Namibia during
Apartheid, inspiring our guide to call himself Man Without A Place.
Cornerstone House
Swakopmund3 drizzle
Afrikaans' paranoia
Bolt the gate at night
3 German colonial beach resort on Namibia's coast, colonized
by wealthy, intolerant Caucasians.
Grootberg Lodge
Etendeka Pass
Girl named Tell It To Me Straight
Schnitzel4 on each plate
4 German culinary meat preparation in which veal or pork is pounded
and fried until desiccated.
Dolomite Camp
Damara dik dik5
Private plunge pool at chalet
Vast parched plain below
5 Smallest African antelope, rare to Etosha National Park and
charming to behold.
Okaukeujo Camp
Park's best6 waterhole
Elephants' deft ablutions
Lion grunts all night
6 For viewing large game at close range, surrounded by obstreperous
tourists, except late at night when we quietly view a dainty clan of rhinos.
Ilala Lodge
Victoria Falls7
street-hustler entrepreneurs
Ndebele twill
7 World's largest sheet of falling water, whose indigenous name,
mosi-oa-tunya, means "smoke that thunders."
Blackheath Hotel
Table Mountain glows
cab drivers speak truth to lies
The Bo-kaap8 is near
8 Cape Town, South Africa, township whose colorful houses symbolize
Muslim Cape Malays' triumph against colonial oppression.
© Mindela Ruby
=====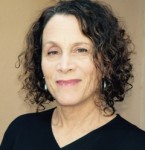 Mindela Ruby is the author of the novel Mosh It Up (Pen L, 2014). Her chapbook That It Should Come To This was a semi-finalist in a Slash Pine Press competition. Her poems, prose pieces, and hybrids can be found online and in print journals including Frigg, East Bay Review, Arcadia, Melusine, and Literary Mama. She completed a PhD in English and Linguistics at the University of California.