Dog with Ulna by Charles Springer
Dog With Ulna
Charles Springer
Left the house looking
for the dog down
the street the beat cop
waved his gun a little
red girl hiding
inside her poodle
skirt with windup tail
needling a compass
stopped on east and
stepped on toes, head
west young pup
found in ice atop
mount cannibal.
© Charles Springer
=====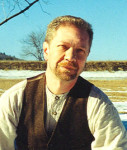 Charles Springer has degrees in anthropology and is an award-winning painter. A Pushcart Prize nominee, he is published in small presses. He writes from his family homestead in northern Pennsylvania.