Eating the Kitchen Sink by David Welper
Eating the Kitchen Sink
David Welper
Disconnect the image from the plumbing with a monkey wrench. Lift out of base, set aside. Now, relax for a moment. Once you have wiped the sweat from your forehead, slam image down on linoleum floor. (If the phone rings, answer it. It may prove useful later. If not, proceed with next step.) Carefully pick up pieces (bend at the knees). Hold them up to fluorescent light to inspect for jagged edges. If some are smooth or remind you of your childhood, discard immediately. Toss them out the window. Wrap lips fully around remaining pieces. Chew, but don't be alarmed or discouraged if they taste good. Just don't savor them too much. Simply bite down, swallow, move on to the next.
FAQs:
What should I do with the tiny specs and shards of remains left on the floor?
Those are words. Let them sit over night and get used to their surroundings (the
smell of smoke, baked goods, spoiled meat, for example). In the morning, allow
them to glisten under fresh sunlight.
Here are some suggestions as to how to use your remains:
Lie naked in bed with a loved one, sprinkle over each other's
bodies. Make love, grinding them into your skin.
Crush with mortar and pestle and snort like a drug.
I personally recommend the following: Collect a pile in your hands, rub
together until covered with blood. Get down on hands and knees and
smear blood into linoleum. You will be urged to slide across your floor.
What do I tell my friends if they call and ask what I'm doing? What about the neighbors?
Tell them you are eating the kitchen sink and suggest they do the same.
How do I fill the hole?
© David Welper
=====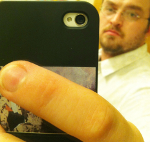 David Welper received his MA in Creative Writing from Wayne State University in Detroit (2003). His work appears in Housefirebooks.com, Denver Syntax, Gumball Poetry, Louffa Press, Cricket Online Review, and others. He has been a featured reader in NYC and at Writing Without Walls and Under The Influence in SF with an upcoming reading at Poetry Express in Berkeley. He writes with an appreciation for the odd things in his brain focusing on sound, structure, and image. His latest book Lookbaby deals with the absurdity and immaturity of how we look at our surroundings. It is available at indie bookstores and www.kobo.com or through his website: DavidWelper.com. He is a psychiatric nurse, living in Denver and the Bay Area. He likes Jazz, redheads, and sushi.