Issue 4
Rivet Issue 4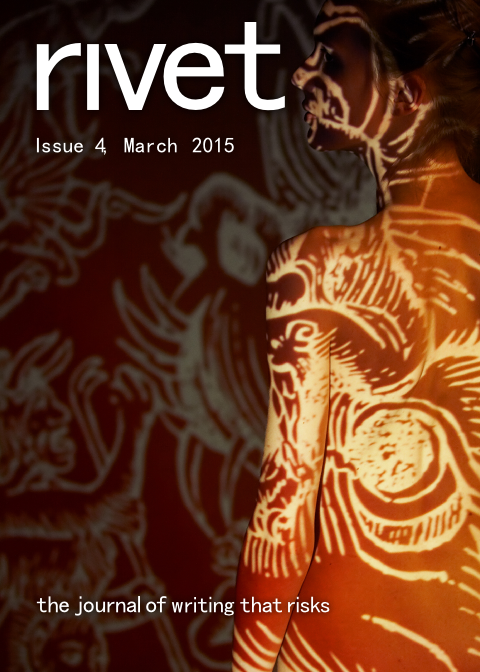 Get ready for danger and delight in Rivet Journal #4. This issue bookends our first year online, and we've got some special treats for you inside.
In the poetry section, we're thrilled to feature the work of MK Chavez. She is the author of three chapbooks and has been a fellow at Squaw Valley Writers Conference, Antioch Writers Workshop, and VONA.
You'll also find fiction that's as seductive as the interpreter who throws out "perfect fish hook questions" in Stephanie Golisch's story "Vacation."  Take the bait in "Ejectioning," and let Joseph Gordon's fearless blend of poetry and prose reel you in.
Skate the perimeter of memory in Catie Jarvis' "Ice." Sink into the layered metaphors of "Every Bird Casts a Shadow" by Alexandra N. Kontes. And join a group of Quaker co-eds taking a class on voodoo in "Meeting" by Lael Gold.
Then jump headlong into two stream of consciousness narratives, one fiction and one nonfiction: "the idiot's guide to morons" by Tony Rauch and "Opinions from the Jukebox" by David Plumb.
Fiction
Meeting – Lael Gold
Vacation – Stephanie Golisch
Every Bird Casts a Shadow – Alexandra N. Kontes
Ice – Catie Jarvis
the idiot's guide to morons – Tony Rauch
Ejectioning – Joseph Gordon
Poetry
Three Poems – MK Chavez
* What I Might Carry in the Small Cave of My Mouth
* How to Write a Love Letter
* Autobiography #2
Nonfiction
Opinions from the Jukebox – David Plumb