Issue 5
Rivet Issue 5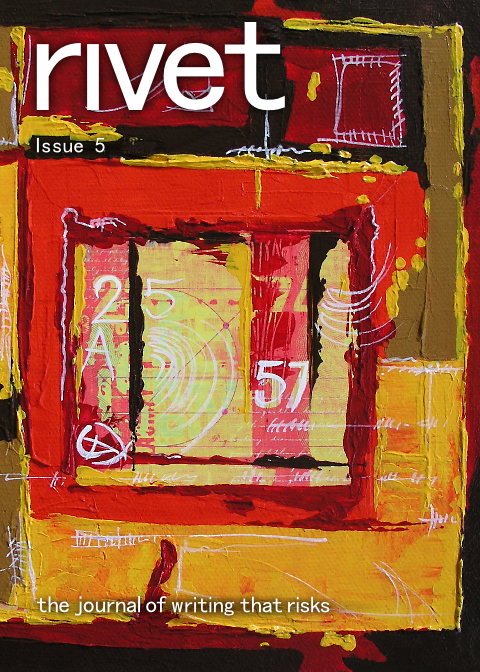 Welcome to the first anniversary issue of Rivet Journal!
It has been our absolute delight to bring you a smorgasbord of writing that risks over this last year, and Rivet issue 5 kicks off our second year with a celebratory feast of voices and visions. There is something for every palate – savory or sweet or unexpected fusions of both. One thing I know for sure, you'll never look at cheese the same again.
Rivet issue 5 features fiction by Tantra Bensko, Steven D. Hamilton, KT Heins, and Grant Riedel; poetry by Christine Brandel, Chris Bullard, Lauren Carpenter, and Melissa Helton, and nonfiction by Christina Holzhauser. I think you'll find it to be full of surprises and also quite satisfying. Scroll down and take a bite.
Fiction
Dr. Gorgonzola of the Ripening Caves by Tantra Bensko
Female Martyrs and Their Favorite Songs by Steven D. Hamilton
Worms Out of Season by KT Heins
The Twenty-Seven by Grant Riedel
Poetry
The Cinema Scene on John's Shoe by Christine Brandel
Gramps by Chris Bullard
Two Poems by Lauren Carpenter
* I Thought I Could Be Somebody Else
* During Chemotherapy
Dam by Melissa Helton
Nonfiction
Dad Tells Me How They Made Sausage by Christina Holzhauser