Owls by Alina Stefanescu
Owls
Alina Stefanescu
1
"The portents of things to come." Her eyes glistened like brown slugs inching towards the bridge of her nose. Ion tried not to shudder. Why lament the disgrace of age on a woman's face—the bad landscaping causing sunken pools where there should be smoothness?
Mrs. McClenny is explaining the behavior of the owl to her neighbor. Usually, Ion enjoys talking to Mrs. McClenny because the way she uses words builds in him the steady expectation of a specific location. She speaks about a place in time with the assurance of those generations who lived before places became parking lots.
After her husband died, Mrs. McClenny reached what she called "a fork in the road" of her life. At this point, she had to choose a future—whether to try and remain the spritely old ballet teacher who chain-smoked outside the church between services, whether to remain faithful to her husband by staying the same. The excuse she gave for changing into a full-time chain smoker who kept up with the neighborhood owls was rheumatoid arthritis. Ion suspected the condition to be a harbinger of latter-day infidelity.
Like most neutral judges, he didn't even know Mrs. McClenny's first name. When he finally asked—"Can I call you something less formal?"—she pinched her lips shut like a tortoise and stared straight ahead.
"You can call me Athena."
"Is that your first name?"
She shook her head no, paused to cough. "It's not my first name but you can call me Athena if you feel the need for an informal reference."
 Gradually, Ion began to address her as Athena—first in direct conversation, later in casual remarks to neighbors who laughed perplexedly. People nodded and laughed, nodded and laughed, acknowledging that there could, in fact, be so many wild animals in the shriveled skin of one old lady.
Athena liked to talk about the barred owl, the one that followed her around the world since she was a knobby-kneed adolescent. "The owl that protected me whenever I snuck into the woods to relieve myself," she recalled.
He wonders how she knew the owl was protecting her. He wants to understand its significance. To make sense of it as a signifier.
As the inventor of the so-called signifier as well as the scene, she cannot find words to answer. Wittgenstein quivers in his grave.
2
On Thursday evenings, Ion brings leftover plastic grocery bags and herbal tea. Usually, he and Athena sit in her backyard and drink lukewarm water straight from the kitchen tap. Though she claims to like tea, Athena has never brewed any tea for Ion. Not even the sign of a tea kettle simplifies their habitual interaction.
When the sun slips over the lip of the horizon, towing the day's light behind it, Ion watches Athena shape her mouth into an imitation beak which then emits owl-like sounds and calls. He is impressed by her ability to communicate with winged creatures. He discovers envy can be an attractor.
At first, Ion only wears the vest when working in the garden. The vest is too old and tattered for public display. Every time Ion comes across a feather in the grass, he takes the feather to Athena who stitches it to the vest while describing the bird from which it fell. Soon, Ion's vest resembles a pastiche of broken wings.
The vest feels like home to Ion, which is why he begins to wear it to the grocery store and license office. People display their most seasoned company smiles and look for patterns in linoleum floor tiles.
"I'm going to call you Icarus," declares Athena, her tone solemn, baptismal.
Ion struggles to hide his delight. When Athena teaches him the basic ballet positions, Icarus finds his feet were meant to open at angles, his gait feels more solid when mimicking a duck.
"I don't know how to thank you." Icarus cries a little because feathers are waterproof.
"You have nothing to thank me for. You were meant to dance, Icarus. The pirouette looks so natural when you do it."
The sun sets in golden colors, but Icarus perceives the orange as a distinct vibration, a sound wave rising into ribatto. He fashions his dance accordingly.
The end is the hardest part. We come to the last pieces of the puzzle—the ones set aside in a pile. These pieces are finally placed in the puzzle not because of their form but by the process of elimination. The last pieces are the lies that seem out of place—the ones that don't fit—and yet, the ones without which the whole cannot be rendered complete.
3
The last pieces include the loneliness, the fear of failure, the early death of parents, the recent divorce, the way we used others, and the way we define ourselves by how others once used us.
Icarus says there is another way to think about it. That there is something that doesn't quite match up and that's what makes it make sense.
He begins with "the idea" of himself—as it occurred to his mainstream mother, all mothers being a type of media, some surlier than others. Beginning with the idea suggests a legend, a myth, something to extract beyond the usual story. The details and specific memories undermine the myth.
So he resorts to reading the secret signs that guide him along the path of more sustainable myths.
Icarus would never say his parents failed him. Only that they failed to see him straight—mistook his skin as an injunction against plumage. Replacing wax with double-stitched seams, Icarus twirls across the yard in his feathered vest, a truly modern man, a resplendent conquistador of sunlight, shadow, and fire. Nothing can melt him back.
© Alina Stefanescu
=====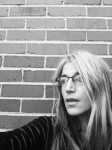 Alina Stefanescu was born in Romania, raised in Alabama, and reared by the love-ghost of Tom Waits and Hannah Arendt. She lives in Tuscaloosa with her partner and three small native species. She was a finalist 2015 Fiction Southeast Editor's Prize, and her syllables are forthcoming in PoemMemoirStory, small po[r]tions, Literary Bohemian, Cruel Garters, CHEAP POP, and Kindred. Objects in vases, a poetry chapbook, will be published by Anchor & Plume in March 2016. More online at alinastefanescu.com.