The Magic Show by Kristin Camitta Zimet
The Magic Show
Kristin Camitta Zimet
6 months
Magic was
All there was
Her face if you
Cried right rising
Round over the bars
The first the only sun
Her giant arms a sleeve
Around you a familiar surprise
Making always whole the always cut
six
Any head
Could go on
Any body over
Any legs in the book
Aunt Shirley pulled out
Of the dangling surprise bag
You could be part dove or mix
Up daddy mommy reassemble them
Side by side under the tight closed cover
sixteen
Nothing could
Ever join the cut
Ends of the ropes they
Tried to tie you with before
You stole the magic scissors
All the doves bursting from your
Seams hooks buttons zippers sprung
Jets of brilliant scarves across the sky
Rings jumped from a pocket to your hand
forty
So single
The two of you
One hoop passing
Clear through the other
Without jangling the broken
Sleepless murmurs healed into
Ropy sentences the vanished feathers
Practically forgotten then found nestling
Pecking at bread crumbs in the other's pocket
seventy
You have no
Magic to wave
Are being sawed
In two torn to confetti
On the stage alone the loose
Ends flopping in your hands you
Promise you will find will fly across
This severing will grow a second heart
You wear the empty hat that held the dove
eighty-nine
Where were you
Looking all along
Missing the fast feints
The throwaways pocketings
Sliding panels dropped cloaks
Love simply set aside in plain sight
Safe it was safe the curtains gliding up
On a white tiger, a kid magician, a curled
Baby, a spotlight sparkling on sequined dust.
© 2017 Kristin Camitta Zimet
=====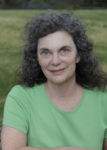 Kristin Camitta Zimet is the author of the poetry collection Take in My Arms the Dark and the editor of The Sow's Ear Poetry Review. Her poetry is in a great many anthologies and journals, among them Salamander, Salt Hill, and Natural Bridge. She is also an award-winning photographer, naturalist, and Reiki master healer.