Why I Slapped Her Hand by Barbara Westwood Diehl
Why I Slapped Her Hand
Barbara Westwood Diehl
Because light is a given for her,
and a day with no sunrise is beyond
her imagination, and the sun
is comfortably far away and benign.
Because she would play with fire as she played
with light switches over her crib.
Because she would play with fire
as she would play with her pigtails.
Because she thinks of fireflies as Tinkerbells
and not instinctual signals in the dark,
the mating and mimicry and eating of prey.
Because she believes a phoenix will rise when set afire
and because she has never seen cremation ashes.
Because she has watched the flame pass
wick to wick on Christmas Eve candles
with paper collars to catch the wax and knows nothing
of incendiaries to burn wood and paper houses.
Because fire is for roasting and not incineration.
Because incineration and incendiary are long
and difficult words and hot should be enough.
Because she believes I can make flames brighter
or extinguish them with my breath,
that I am incapable of a conflagration.
Because I could not bear to let her
learn all this on her own.
© 2017 Barbara Westwood Diehl
=====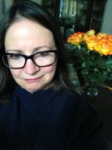 Barbara Westwood Diehl is founding editor of the Baltimore Review. Her fiction and poetry have been published in a variety of journals, including Quiddity, Potomac Review (Best of the 50), Measure, Little Patuxent Review, SmokeLong Quarterly, Gargoyle, Superstition Review, NANO Fiction, Per Contra, Thrush Poetry Journal, Tishman Review, and Ellery Queen Mystery Magazine.